Event Date:
03/15/2013 -

12:00

to

13:30
Event Description ENG:
2013 St. Patrick's Society Annual Luncheon
Hilton Bonaventure Montreal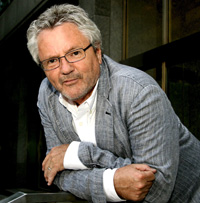 The 2013 Annual Luncheon welcomed guest speaker, Mr. Kevin Tierney, award-wining producer of BON COP BAD COP, the first ever bilingual film made in Canada, and the highest grossing movie in the history of Quebec and Canadian cinema.

His most recent production, FRENCH IMMERSION, also saw him make his directorial debut. Based on an original screenplay he co-wrote with Jefferson Lewis, FRENCH IMMERSION is a cross-cultural, bilingual comedy that recounts the adventures of a group of Anglophone Canadians who come to study French in Quebec for two weeks. Over the past 15 years, Kevin Tierney's television productions have been nominated for a total of 11 Emmys and 12 Geminis, including two Outstanding Mini-Series, Best Series and most recently, Best TV movie for ONE DEAD INDIAN. Prior to entering the film business, Kevin Tierney spent more than a decade teaching at various levels and all over the world, including Canada, Algeria, Chad and China.
Mr. Tierney engaged the luncheon audience with his heartwarming, humorous, and often cheeky speech about his life growing up as an Anglophone Irish Catholic in Montreal in the 1950s.
The Community Award presentation was made to Dr. Martin P. Murphy.